Paris
In September of '97 I travelled on a job to Monte Carlo with Charles Cooley and Tom Seymour (see Champions of Magic - Jeff McBride's "Burned Alive!" in the Special Effects section of the Gallery).
From Monte Carlo we went to Paris for two weeks of play.
See also Monte Carlo in the Travel section of the Gallery.
Click below for lots more photos and information.
---
Contents: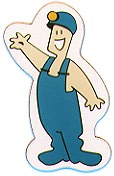 Return to the Gallery.
Return to my Home Page.
© Copyright 1997 R. Hutchins
Unless otherwise noted, all photos are © Copyright 1997 R. Hutchins. All rights reserved.
hutchfx.com - Revised December 1997